Midtown, a place to stay


A quiet, neatly organized, comfortable neighborhood community,

Midtown

in Palo Alto is located between Oregon Expressway and Loma Verde Avenue, Alma Street and West Bayshore Road.


Once part of a state-wide development boom following World War II, Midtown could mostly be seen as a stereotypical suburban neighborhood until the 1990's. Property owners then started remodeling their homes or building brand new ones, and the home values in Midtown grew with them. Midtown now offers a good blend of mid-sized bungalows and larger new homes.


A lot of residents have been there for decades and love the close-knit, family-oriented community feel.
They also appreciate being close to so many amenities and facilities. Middlefield Road's Safeway, Sancho's Taqueria or the Charleston shopping center's Peet's or Piazza's Fine Foods are just a short stroll away, and a good part of the neighborhood is also within walking distance to Caltrain.



Did you know?


Midtown's Bryant Street - also called "Bike Boulevard"- is closed to car traffic at several intersections, making it the ideal path for bikers from Menlo Park all the way to Mountain View.
See Palo Alto Midtown homes for sale
Midtown, Palo Alto facts:



Location: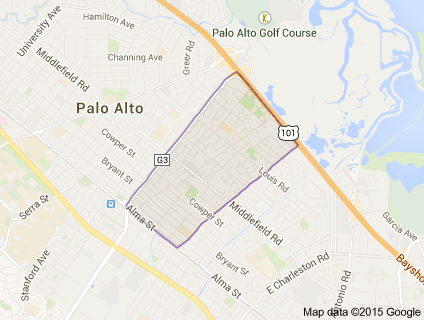 Child care and preschools:

- Grace Lutheran Preschool, 3149 Waverley St.
- Love'n'Care Christian Preschool, 2490 Middlefield Road
- Mini Infant Center of Palo Alto, 3149 Waverley St.
- Ohlone Kids' Club (PACCC), 950 Amarillo Ave.
- Palo Alto Friends Nursery School, 957 Colorado Ave.


Private schools:

- Keys School, 2890 Middlefield Road
- HeadsUp! Emerson School, 2800 W. Bayshore Road
- The Girls' Middle School, 3400 W. Bayshore Road
Public schools:

- El Carmelo elementary school
- Fairmeadow elementary school
- Hoover elementary school
- Ohlone elementary school
- Palo Verde elementary school
- J. L. Stanford Middle School
- Gunn high school
- Palo Alto high school


Parks:

- Greer Park, 1098 Amarillo Ave.
- Hoover Park, 2901 Cowper St.
- Seale Park, 3100 Stockton Place


Post office:

- Cambridge, 265 Cambridge Ave.
- Main, 2085 E. Bayshore Road


Fire station:

- No. 4, 3600 Middlefield Road


Library:

- Mitchell Park branch, 3700 Middlefield Road


Shopping:

- Midtown Shopping Center, Middlefield Road and Colorado Avenue;
- Middlefield Road at Loma Verde Avenue


---
MEDIAN 2014 HOME PRICE: $2,350,000 ($1,300,000-$4,800,000)
HOMES SOLD: 44
MEDIAN 2014 CONDO PRICE: $727,500 ($526,000-$1,565,000)