Old Palo Alto, a prestigious and affluent neighborhood


Elegant, charming, diverse, walkable, leafy are some of the adjectives used to best describe Old Palo Alto, one of the town's most sough-after neighborhoods.
Old Palo Alto is also well-known for its famous affluent residents: it once was home to Steve Jobs, former CEO of Apple, Larry Page, co-founder of Google, or Steve Youngs, former San Francisco 49ers quarterback.
Here the residents enjoy bigger lots than in other neighborhoods, with an average of 9,000 square feet, making way for the construction of luxury homes, though the neighborhood's architectural sizes and styles remains very diverse, ranging from Tudor to Eichler, Craftsman or Mediterranean.
The first house of the neighborhood was built south of Embarcadero Road in 1902 by the descendants of Proctor and Gamble co-founders. Their daughter, Elizabeth Gamble, later gifted the estate to the city of Palo Alto. In 1985, the City Council decided to lease the estate, and thus the Elizabeth F. Gamble Garden was born, giving residents access to 2.5 acres of plants and trees.
Residents can also often be seen at the nearby Palo Alto Lawn Bowls Club's free Sunday classes and tournaments throughout the year.
Neighboring children attend the highly-rated Walter Hays or Addison elementary schools.
Close to Stanford University, the neighborhood also provides easy access to Highway 101 for commuters, and both Palo Alto and California Ave Caltrain Stations are just a short walk away.


Old Palo Alto, Palo Alto facts:

Location:
Between Embarcadero Road and Oregon Expressway, Alma Street and Middlefield Road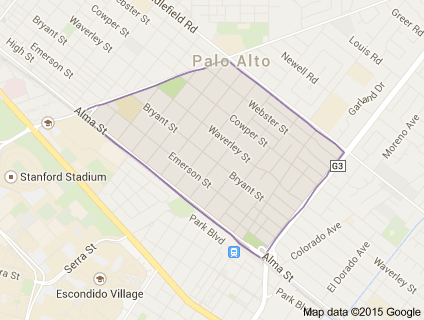 Childcare and preschools (nearby):
- Addison Kids' Club, 650 Addison Ave.
- Neighborhood Infant-Toddler Center, 311 N. California Ave.
- Walter Hays Kids' Club, 1525 Middlefield Road
Fire station:
- No. 3, 799 Embarcadero Road
Library:
- Rinconada Library, 1213 Newell Road
Neighborhood association:
- Old Palo Alto Neighborhood Association (OPANA)
Parks:
- Bowden Park, Alma Street and California Avenue
- Bowling Green Park, 474 Embarcadero Road
- Kellogg Park, next to Bowling Green Park
Post office:
- Cambridge, 265 Cambridge Ave.
Private school:
- Castilleja School, 1310 Bryant St.
Public schools:
- Addison or Walter Hays elementary schools
- Jordan Middle School
- Palo Alto High School
Shopping:
- Town & Country Village
- Midtown
- California Avenue
MEDIAN 2014 HOME PRICE: $3,312,500 ($1,568,000-$19,880,000)
HOMES SOLD: 30
MEDIAN 2014 CONDO PRICE: $1,350,000
CONDOS SOLD: 1